Touring The Guardian, Pure Detroit Style
by LA Jamison
If you live in the Detroit, Michigan area or are interested in what is going on with Detroit NOW (versus the past), you will hear people say "Detroit is coming back!", "Things are changing down there!" or "There is so much potential!". Yet, you can also hear a sidebar that there are but certain pockets where changes are happening. Ever since I moved back here after a 17 year absence, I've missed what the downtown Detroit used to feel like when I was a child--right down to the Bob-Lo Island Amusement Park and the Bob-Lo boats (which for some reason everyone seemed to pronounce Bob-A-Lo). Despite some scattering of visits downtown either to pay a ticket, meet a friend at a diner, or an event at Campus Marcius, it is hard to really know where to go that is both informative and safe.
I recently discovered that not only does Pure Detroit offers free tours but they also offer a few unique ones in the month of June only. I thought Pure Detroit was a great place to start. I find out so much more about the history and where the cool places are to go usually from someone who has already been around the block or two. Pure Detroit offers tours of places like the Fischer Theater, Detroit Skycrapers and more. In June they are additionally offering a tour of the Guardian Financial Building. The great thing is you often learn much more than just about the object of the tour but the surrounding objects as well.
*Spoiler Alert: From here on out you will hear some things that are said and shown on the tour so be forewarned.*
For example, one of the nearby buildings is the Penobscot building. This well known building, built by the same designer as the Guardian, has a line of swastikas around it as pictured below. They are small enough that if a tour guide didn't point them out to you, you might not notice them. Was this a homage to the Nazi's or what? No, they were used on this building before the time period. The symbol itself means "conducive to well being or auspicious". In Hindu, it symbolizes the sun and prosperity. Wild huh? You will learn a lot more on such tours like these so consider going!
My interest in the Guardian building was first peeked by a friend of mine, Dan Miron, who is an accomplished architect. We met in Greektown for his visit and he proceeded to take me downtown telling me a lot of history and his experiences. He was the one who let me know about these tours via Pure Detroit. I was hooked because it was so fascinating following Dan around. He knew so much! If I had driven around by myself, I would have easily breezed by places without thinking much about it. It would have all looked like a cool cluster of buildings, casinos and bright lights that didn't really compare to places like Chicago or New York. In many trips to Detroit last summer and this summer, one thing this city has are places tucked away from view. The city itself is so tightly wrapped with buildings and little places and homes. you really have to pay attention to your surroundings and know where you are going. Or, at the very least, be willing to hike and ask around. In the blink of an eye, you can miss an awestriking visual.
The Tour of the Guardian wasn't happening that day my friend Dan was here so all I could see at first was what you see below. This alone is something you just have to go back for.
I ended up going back with my friend John Sheffield who knows a lot about Floyd Wright Homes and the Boston Edison District which is a district that has an array of great homes including that of Barry Gordy. You will see John in the upcoming pictures. He is a wonderful guy. It is like hanging out with your best friend, a celebrity comedic impersonator, and a tour guide from the deep south all in one. You are either feeling real good or laughing yourself into stitches with Mr. Sheffield.
here are the interesting facts about the Union Trust/Guardain building you may or may not know:
The Guardian building was designed by Wirt. C. Rowland is behind a lot of architecture in Detroit and even outside of Detroit. I guess I rather be called Wirt than Wort!?! He attended the Harvard Graduate School of Design in Cambridge. From the Penobscot building to Cadillac Place (the GM building) and even the Ambassador Bridge, Rowland has a part in it all. With his skill, education, and uptick in the Detroit economy at the time, there was nothing to stop him. From Hill Auditorium at UofM to the Detroit News building and a number of public schools and banks, there is Wirt C. Rowland's influence. Interestingly enough, a number of the buildings use Native American symbols for harvest and agriculture. The Word Penobscot itself is from a tribe of Indians. You will also find some Aztec influences in his buildings as well.
The Guardian Building located in Detroit's Financial District is unique in that it was considered one of Rowland's crowning achievements, if not THE crowning achievement. It was named the Union Trust Building but as it became popular it was renamed the "Cathedral of Commerce". This name was only ever given to the New York Empire State Building and now The Guardian had it. The word "Cathedral" was appropriate because Rowland designed it with Mid-Evil Cathedrals in mind. The entire building is like a grand cathedral. It is like being transported back in time. It was one of the tallest buildings in Detroit at the time it was built. Everyone was interested in this building and just on its opening day in 1929, the amount of people who came through the lobby that day totalled 30,000. The building is 40 stories high and built with two million bricks. It has a foundation of granite and a six story stone base. The exterior of the building that extends out from its foundation is brick, terracotta, limestone, and tile. The color of bricks later gained its own brand because of its unique design and they called the design of the brick the "Guardian Brick". The attention to detail is both extraordinary outside as it is inside. Rowland even went so far as to design the furniture, table ware, linens and waitresses uniforms for the restaurant upstairs. In the age of an economic boom and lack of building regulations, it took only a little over a year to build. Yet, 1929, the year of its grand opening, was the year of the great Market Crash. It fell to the crash but was eventually saved by investors.
Rowland assembled a multitude of artisans, mosaicists, sculptors, painters, and tile manufacturers. Some names like Corrado Parducci might ring a bell. Parducci is all over Detroit and there is actually a Pure Detroit tour which examines the statues he has made around town. Two of his statures flank the grand entrance of the Guardian that you can see in the slideshow above. It was Ezra Winter who did the huge mural inside of the state of Michigan and a goddess of commerce at its center. The most distinguishing feature inside is the incredible colored tile from Rookwood and Pewabic pottery companies. In addition there are two Tiffany large clocks. There are only four of these clocks left in the entire world and two of them reside in the Guardian Building!
After you exit the smaller front lobby, you walk upstairs to a bank teller market. This is where the bank teller windows lined the walls as far as the eye could see..., that is until the great war. Sadly, like many places in Detroit, the building became a center for the war effort and the metal for the bank teller windows and such was melted down to make dog tags. Today, they are lined with a few retail stores and bank outlets. The ceiling is actually done in tile and fiber because this keeps people's voices from traveling so that they could do their banking privately. In addition, there are a whole host of rare materials used in and outside of the building from Tunisia marble and more.
Rowland is quoted as saying, about his design of the building, "What we see we must see quickly in passing, and the impression must be immediate, strong, and complete. Color has this vital power". He used that color to make this building pop on the skyline
On the tour, you get to go up to 32nd floor for some amazing views via a large dining hall that cost no small amount to rent out. You will also see a building up there that has something to do with a very significant building in New York City. That's all I will say about that. I don't want to spoil everything. You need to go up and see for yourself. The skyline is amazing.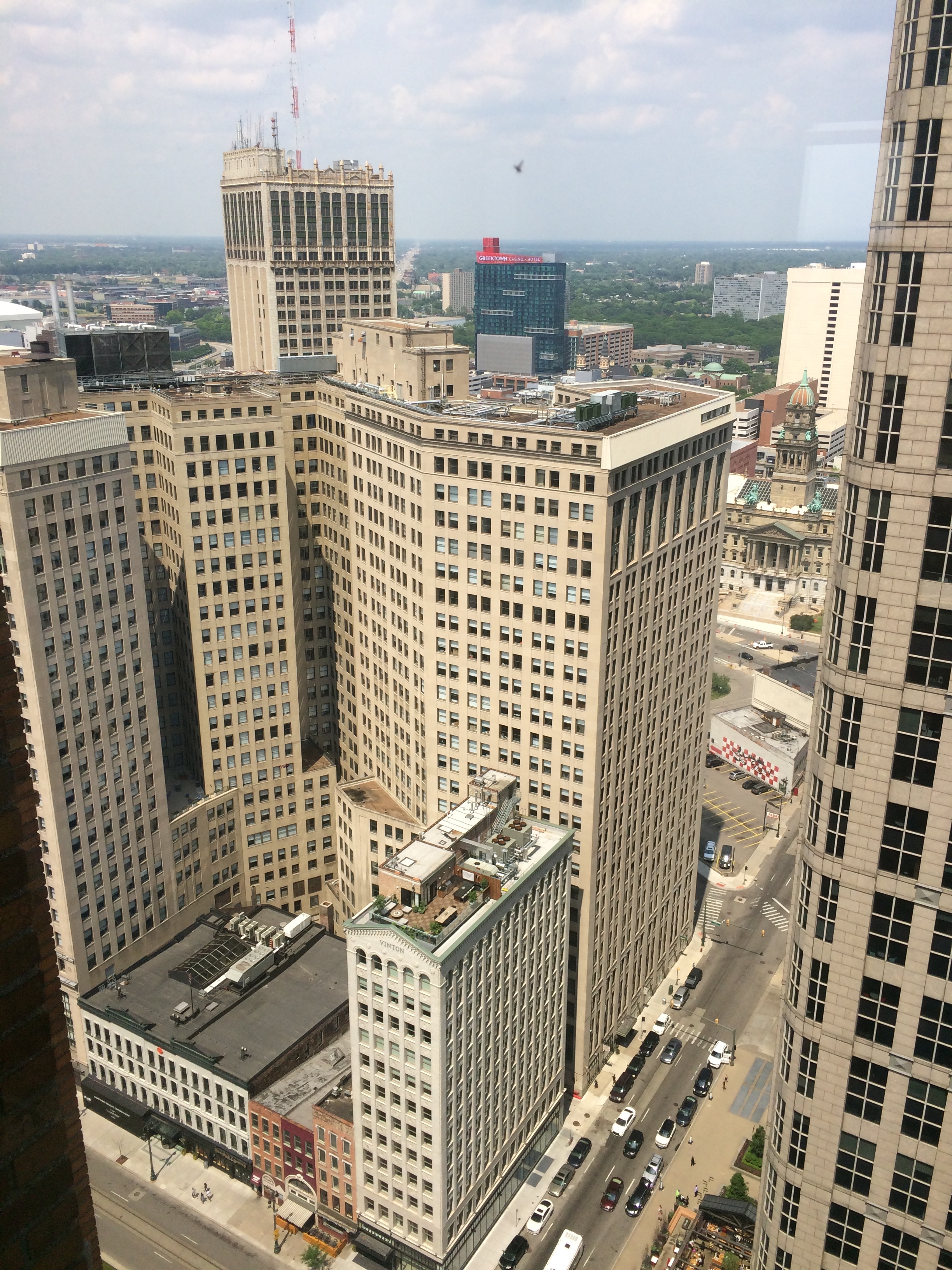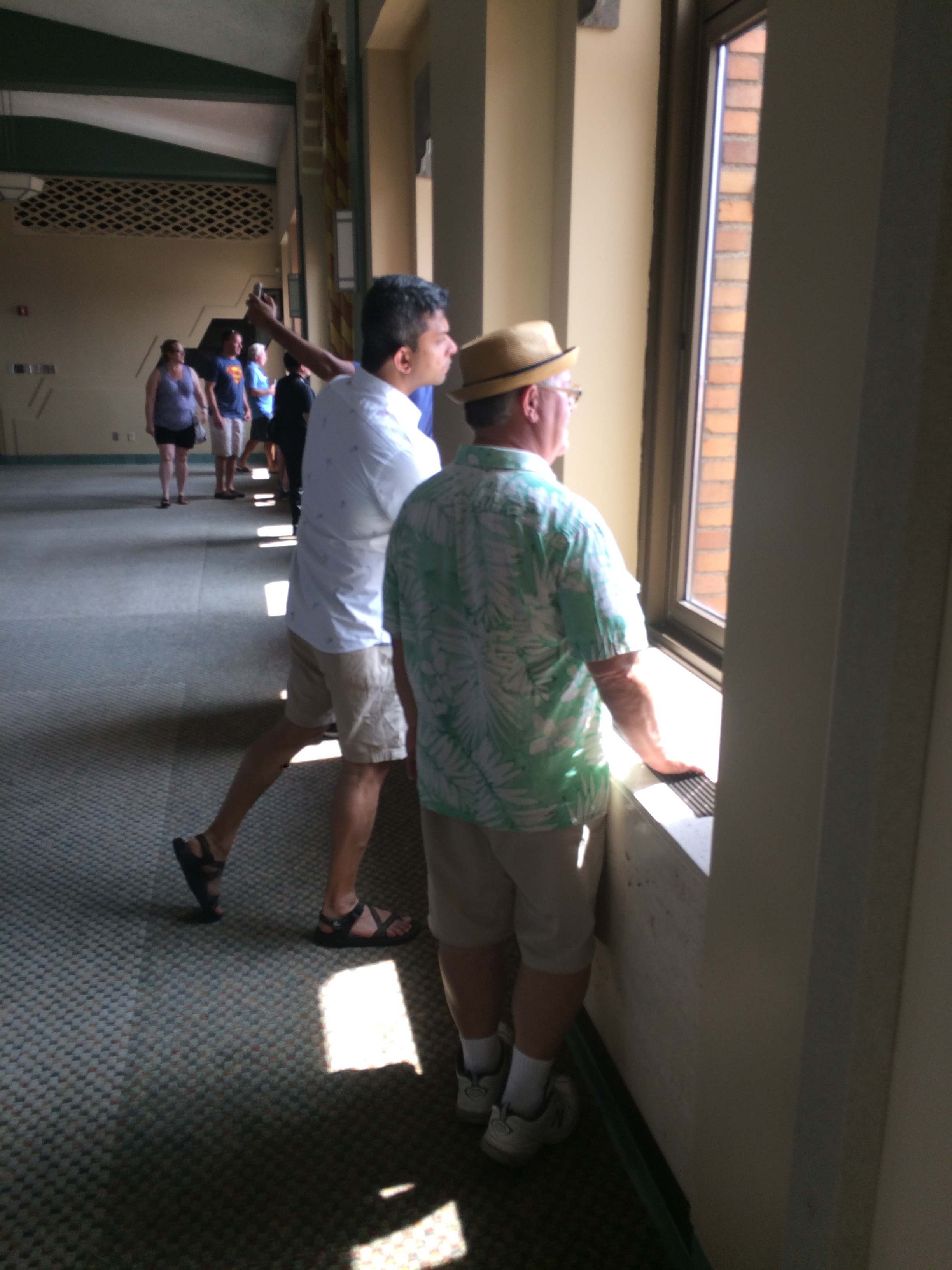 You might have missed the spoiler alert and now be saying "Great, why even go? I heard it all and seen it all right here?". That would be a big mistake! Think of any trip you went on. Did your limited photos and words really capture it all? Of course not, and I really didn't take as many photos as I could or get all details. So there is no excuse not to go. In addition, the vibe down there really gives you some hope for Detroit! So go go go!
To Find out more about this particular building you can go to Guardianbuilding.com
You can find out about more free tours through Pure Detroit (Different from Pure Michigan)
There are also tours you can take all around Michigan at this Website